ALUMAR Yachts offer both professional and home builders cutting files and pre-cut metal kits, helping to reduce labour costs, material wastage and rental expenses while improving construction quality.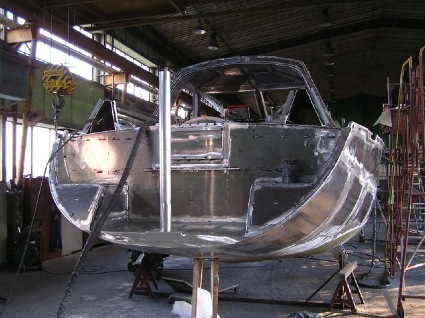 The Time Factor

Besides the financial aspects the most important component in a boat project is time. Preparing every component of your yacht from scratch may be satisfying when looking back on the project. The amount of work involved should however not be underestimated. To avoid being trapped in an endless project every effort should be made to work in the most time effective manner.

In the case of metal hull construction the use of cutting files and pre-cut kits is probably the most significant step in this direction. There is no other method that can improve material efficiency and productivity to such a degree as can be achieved with cutting files.

Sure, doing everything by hand may be satisfying to some. On the other hand building from a pre-cut kit will bring you far closer to successful completion.
Advantage of CNC cutting files and kits

Among other aspects these are probably the most significant advantages of cutting files:
Construction time is reduced by at least 40% to 50%. This will result in substantial savings in terms of labour costs as well as rental expenses.
By nature a substantial amount of wastage is created when building a boat in metal. As example a Dix 43' PH built from scratch by hand will consume approx. 5000 kg of aluminium. This is approx. 1'200 kg more than what would be consumed when working from a kit. This is only possible because all components are nested and usage is optimised before the first item is cut. This level of planning is simply impossible when working by hand and from scratch.
Engraved station/frame reference lines ensure that frames are installed accurately and plumb. This avoids construction errors that would result is labour intensive modifications.
Hundreds of holes for plumbing and interior fixation as well as limber holes to help keep the boat dry are included. "Boxing" of components at intersection allows for a far better degree of construction accuracy and saves time. If well planned, this saves many hours when it comes to fitting out.
All minor weld-on items such as eye-pads, genoa track mounting plates, port light frames and deck hatch landings or tank lids take a great amount of time to plan and prepare by hand. CAM production of these components is far more cost effective. Everything that will be made from plate should be added in the cutting files.
The MDF lofting floor ensures excellent form accuracy of frames. The lofting floor also serves as template for construction of the interior bulkheads
The perfection and finish of the final product will be far superior than a hand cut hull, both inside and outside. Our files include all cut-outs required to allow seamless through welding of tanks and hull plating. If this is not done correctly on an aluminium boat, tanks tend to leak. Sealing such tank leaks can be very time consuming.
The cutting files contain many hours of thinking and planning normally performed by the builder. With a kit the builder can concentrate on other details as less planning and supervision is required.
Once cutting files are available it is very easy to go a step further: bulkheads and other interior components can easily be cut based on the existing cutting files. Alternatively full size CAD plots on stretch free paper can be used as templates.
All kits come with a customised instruction manual specific to the design concerned. Detailed drawings are supplied that outline how components were developed and how they are to be erected to obtain a perfect fit. Our construction manual also includes a detailed welding procedure with an optimised welding sequence to minimise welding distortion and to simplify construction and sealing of tanks and the ballast compartment. For the professional builder this may not be required. For first time builders this will allow far better progress and will result in a very fair hull.
Our clients also have access to backup service. In case of doubt or wherever important decisions are to be taken we advice on the best suitable solution based on experience and the clients available resources.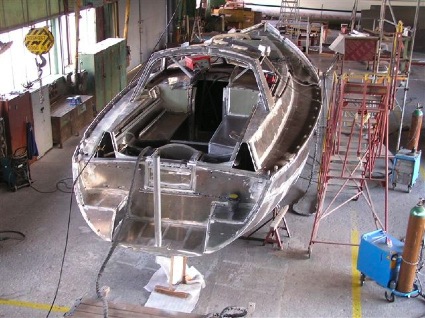 Dix 43 HD
Dudley's latest and probably most versatile cruising design with a hard dodger under construction in Prague
Engraved Construction Lines

Building a boat is to a certain extent an art. A number of techniques are required to produce a fair hull with minimum distortion. To further assist the process all our new cutting files include engraved reference lines on hull and deck plating indicating i.e. station / frame positions on the hull plating or deck to hull intersections. These lines give far better control of hull shape and avoid construction problems such as frames not being installed plumb. Due to the nature of boats achieving this manually can be very challenging as it is very difficult to obtain exact measurements within a hull. Construction is faster and fitting out of the boat becomes a lot easier as frames are now positioned accurately and perfectly plumb.

Reference markings are incorporated by drawing these onto the 3-D body prior to unfolding of the surfaces. These reference markings are normally applied to the edge of the component. With this technique almost any cutting method to be applied.

A full scale lofting floor allows fast and accurate assembly of the frames and centre line stringer components. The lofting floor is best cut by means of CNC router on standard MDF sheets. The lofting floor can also be used as template for construction of the bulkheads and other interior components.
Construction details

Limber holes and through weld cut-outs are included in our files. Holes are also provided on all frames for fastening of bulkheads. Wherever possible components are slotted for easy assembly. Cut-outs allow for full uninterrupted double sided hull and tank welding, an important precaution to avoid leaks, especially when working in aluminium.
Our cutting files also include openings for plumbing and routing of electrics. On metal boats this makes fitting out substantially easier as it avoid having to rout piping and plumbing past the web at each frame intersection.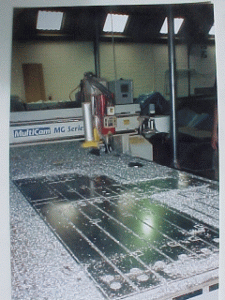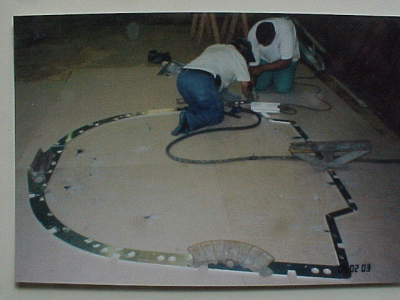 CNC router in operation       Frame assembly on full scale MDF lofting floor
Customised kits and Cutting Files

We offer tailor made packages customised to your individual needs and preference within short notice and at reasonable costs. Variations may include hull / deck stringer sizing (to suit your available stock dimensions), keel draft, cockpit layout, watertight bulkheads, rounded sheer line- deck- and cockpit coaming edges (best suited for aluminium construction). This service is surely not the norm for pre-cut kits or cutting file packages and allows for construction of a unique customised yacht.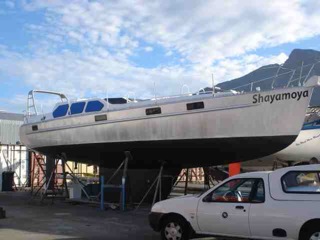 A tailor made Dix 43' PH built by our team in Cape Town
Content of kit / cutting file package
Whereas the contents of our kits/files may vary they generally include the following:
Hull frames, deck girders cent- Lofting floor pattern (best: router cut on interlocked MDF boards)
Lofting floor pattern (best: router cut on interlocked MDF boards)
Keel and tank floors, cut to fit keel shape
Hull topside and bottom plating (not the rolled section as these are normally fitted manually)
reference lines on hull and deck plating
Keel and rudder foils with roll- and web reference lines
Fore and side deck plating, cabin / pilot house top and side plating
Cockpit bulkhead-, sole- and seat plating
Transom-, anchor- and cockpit lockers
Water tight bulkheads (on request)
Engine bearers, mast support, tank tops and lids including holes for bolts
Chain plate brackets re line stringer (all cut from plate)
We encourage you to include all minor components. This will save many hours of labour.
Genoa track mounting plates with holes
Pad eye mounting plates with holes
Plumbing flange plates
Bow roller
Port light landings and frames
Hatch landings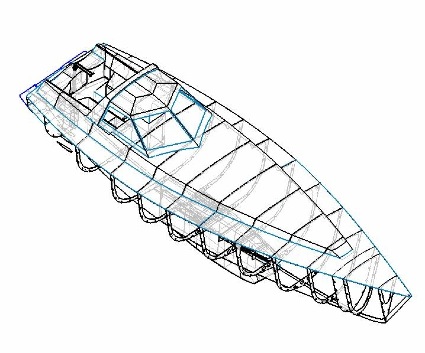 Dix 43' HD, components included in a kit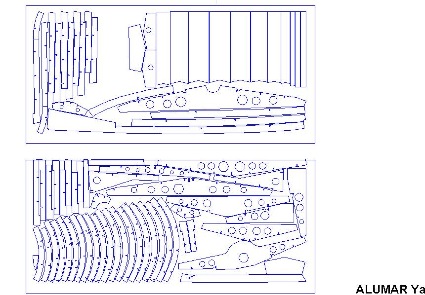 Vickers 45' HD CNC cutting files with nested frame components